You are currently browsing the category archive for the 'Awards' category.

Last night saw us celebrating in style as we won the prestigious E.learning age Team of the Year at the 2007 e.learning age awards. The team faced stiff competition from 7 other shortlisted companies including Shell International and BT Retail at the swanky Sheraton Park Lane awards ceremony. The team were recognised for their work with Britannia Building Society during the integration of Bristol and West – pulling out all the stops to deliver an e-learning system in 12 weeks that enabled Britannia to meet a crucial deadline and potentially saved millions for the business.
A quote from Marton House's multimedia developer Steven Andrews swung it for the judges:
"There was a great vibe when we were working with them and it really felt like we were making a big difference. I think this really helped us work so well together as a team – we all wanted to deliver a high quality product – even though we were really up against it. I look back now and think it's amazing that we still managed to innovate and develop new techniques and approaches under such time pressures – and that's what makes us a winning team."

But this blog is about learning and sharing. So we've uploaded our entry document as a pdf. You can read it here.
And below is the moment it all happened…

I was in Berlin a couple of weeks ago for a series of lectures from some the world's most exciting and challenging film makers. Here is a small piece of advice from a celebrated actor.
You may know Gael Garcia Bernal as playing Ernesto 'Che' Guevara in The Motorcycle Diaries or perhaps as the headstrong nephew in the mexican portion of this year's Oscar nominated film Babel.
Gael talked about rehearsal. He is a world class actor. He is good at what he does. But he never just walks onto the film set and acts. How can he? He always rehearses. But this doesn't mean his thinking becomes rigid or locked down. Rehearsal, he says, builds up a musculature memory. That means you do can a lot of things automatically, without conscious effort or thinking. This frees your mind to live in the moment and react to an ever changing and dynamic scene.
But how often do we rehearse? How often do we practice until we cannot get it wrong? How often do we build that musculature memory?
Or do we walk onto the set and hope we can just do it.
Of course it is easy to say that actor's just find time to rehearse. But they don't have to. Gael finds the time, he makes the time. Its built into his work method, into his business model if you like.
And that self-rehearsal time is what makes him successful.
Image taken from the official talent campus site. You can read their account of the interview here.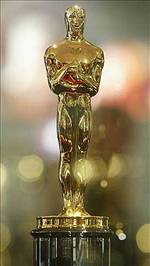 There's usually a bit of a buzz around the office at this time of year what with both the BAFTAs and the Oscars being so close to each other. This is partly due to our roots being so closely linked to the entertainment business, but also because some of us have been there ourselves.
Not many people know that we have a BAFTA nominated scriptwriter on our team in the form of Tim Clague for his film Eight and even yours truly has been honored twice in the form of best film at The Landcrab Film Festival (Seeing Red and A Right Royal Roast).
Anyway I'm not posting here today to blow our own trumpets (well, not just that anyway!), what I wanted to make a point about is that no matter who you are everybody loves to get an award. Hey even Martin Scorcese managed it this year!  Check out the full Oscar winners list here.
One of our most successful workshops is "The 100 Second Film-Makers Challenge". In the workshop myself and Tim give groups of people an overview of film making basics. The groups are then given a breif from their company around which they make a 100 second long film – simple concepts like "Going from good to great", or "Being the best". Each group then gets a camera, a few hours, and a whole load of help from us should they need it in order to achieve their vision.
The best part of the day for everybody is the glitzy awards ceremony in the evening where all the films get shown and trophies are awarded to the best.
People really love it, not only are they getting a chance to do something creatively different they're also making themselves heard. Companies also love it too as it's a very different way of spreading a new initiative or just plain and simple rewarding success.
Of course you don't have to be a film-maker to win awards. An annual tradition for Marton House is to have an awards ceremony at our annual dinner where everybody gets an award for something specific to their abilities.
It's always nice to be recognised for your achievements.